Welcome all plant lovers, plant experts, plant enthusiasts and beginners! I am so excited to share my adventures with all things plants! I am not an expert but join me in my ongoing journey of slowly becoming an expert! I have been passionate about all things plants for YEARS. With everything that I have explored on social media or plant websites I realized there seems to be TWO THING MISSING... a US Midwestern perspective in the amazing world of social media outlets, podcasts or blogs AND just straight, no fluff plant info. I am a proud Wisconsinite and we have a different and somewhat complicated environment for growing houseplants & plants! BUT just because we have a different environment doesn't mean we can't learn from the experts on the East and West coasts or around the world! Want to join my adventure? Then FOLLOW Houseplant Homebody on Instagram and Facebook and go follow my personal plant inspirations on Pinterest. You can find me at ALL of those places @houseplanthomebodyllc. And DON'T FORGET to get involved! Comment on posts or pictures, ask me questions, provide your best plant advice or tag @houseplanthomebodyllc in your posts or comments. There is so much to learn in the plant world and I want to encourage everyone to soak it up! Houseplant Homebody is the best community for ALL THINGS PLANTS.
Episodes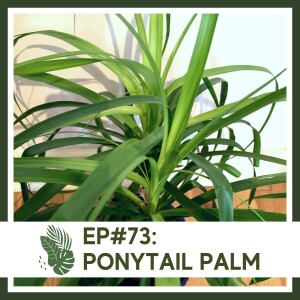 Tuesday Dec 27, 2022
Tuesday Dec 27, 2022
With a deceiving name, the Ponytail Palm is in fact not a palm at all but a relative of the yucca plant! This semi-succulent plant is less care than you may expect and who wouldn't love to have a "palm" that is low maintenance?!
Go to www.houseplant-homebody.com/ for more detail and the corresponding blog post!
Don't forget to follow Houseplant Homebody on Instagram, Facebook and Pinterest.
If you want EVEN MORE of Houseplant Homebody, tell your friends to become a Supporter, sign up for the bi-monthly newsletter or reach out with a question, request or just say hi! I love hearing from each of you!
Thank you SO much for listening!